Nationalist Congress Party bargains for more seats
Submitted by Mohit Joshi on Sat, 02/07/2009 - 17:57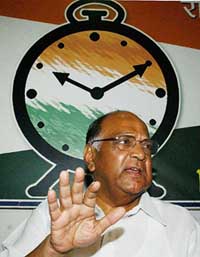 Mumbai, Feb 7: The Nationalist Congress Party (NCP) with an eye on the forthcoming general elections has demanded more seats from the Congress Party.
The NCP working committee met on Friday where party leaders resolved to push for more seats.
The meeting was chaired by NCP chief Sharad Pawar.
The members of the working committed discussed on seat distribution in the forthcoming general elections.
Maharashtra Deputy Chief Minister Chhagan Bhujbal said the party had a meeting with Congress party wherein NCP had demanded equal status in terms of seat sharing.
"Congress said that the division of the State in terms of numbers would be like as it was before. But, we said we wanted an equal division. So they have told us that they will talk about it with their members and will then tell us," said Bhujbal.
According the Election Commission, the elections may be held sometime between April 8 and May 15. (ANI)