Nithari victims's relatives express outrage over Pandher's acquittal
Submitted by Mohit Joshi on Fri, 09/11/2009 - 21:32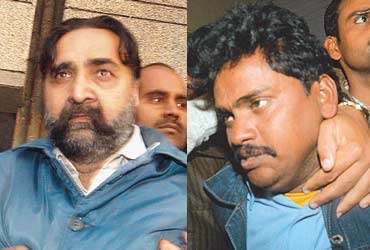 New Delhi, Sep. 11 : The acquittal of Nithari killings accused Mohinder Singh Pandher in the Rimpa Haldar murder case has left relatives outraged and anguished.
"I will destroy this bungalow (Pandher''''s residence) in one minute. I am ready to spend money to get justice," said Anil Haldar, Rimpa's father.
His reaction came after the Allahabad High Court acquitted Pandher for the murder of Rimpa, who was among the 19 people killed at the businessman''''s home.
Haldar, a married woman, was called by Kohli to work as housemaid at the Pandher, and thereafter went missing.
The father of another victim said he would approach the country''''s apex court for justice.
"We will go to Delhi and appeal in the Supreme Court because the government out here is corrupt," said Jhabbu Lal, the father of Jyoti, a Nithari massacre victim.
Earlier this year, both Pandher and Koli were awarded capital punishment by a special court in Ghaziabad.
The Nithari killings came to light three years ago, leaving people across the country shocked.
The skeletal remains of the children were first discovered in a sewer behind Pandher''''s plush D-5 bungalow in Noida''''s Sector 31. The human skulls were stuffed in 57 gunny bags along with 700 bone pieces.
Special Judge Rema Jain completed the proceedings after re-cross examination of former Noida police officer Dinesh Yadav on January 27 and the recording of statements of Pandher and Kohli.
A total of 19 cases of killings were registered at the Noida police station in December 2006. All of them were transferred to the CBI for further investigation. (ANI)