No confidence motion filed against Romanian government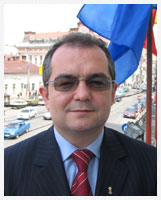 Bucharest  - Romania's opposition National Liberal Party (PNL) on Thursday filed a motion of no confidence in parliament against the minority government of Prime Minister Emil Boc.
Two weeks before, the governing coalition consisting of Boc's centrist PD-L and the Social Democrats (PSD) disintegrated.
The PSD, which pulled out of the coalition, announced their intention to support the no-confidence motion, making the fall of the Boc administration a likelihood.
Parliamentarians are expected to put the motion to a vote on Tuesday.
The PD-L has accused the Boc administration of "economically and morally destroying" the country.(dpa)