Non-Basmati Rice Ready for Export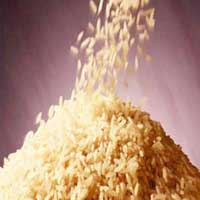 The four year ban over the export of the non-basmati rice has finally been lifted by the Government. Besides, it has put a ban over the sales of onions overseas with the pursuit of meeting the challenges of surging prices. It has been reported that the onion prices have rose to Rs 25 per kg in just one year.
It has been informed that as per the new law, both rice and wheat will be exported without imposing extra charges under the open general license. The decision of lifting the ban came as the production of wheat was more than expected. Therefore, with the pursuit of making space for the new wheat, it was decided to export the rice and wheat.
Food Minister KV Thomas has informed that no MEP will be imposed upon non-basmati at present. It has been proposed that later, an MEP of Rs 400 a ton can be imposed. Although a ban over its export has been lifted, a party is allowed to export only 10,000 of basmati rice.
Previously, there have been controversies over the export of the rice as questions were raised over its viable to export the left over rice. The ban was put on 2007 for the first time.