Now, click pictures on-the-go with HTC's new 'Re Camera'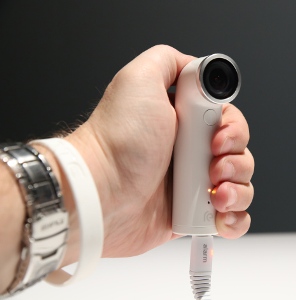 Washington, Oct 9 - HTC on Wednesday announced a new digital camera called the Re Camera, which pairs to iOS or Android smartphones to make it easier to click pictures on-the-go.
The Re Camera isn't supposed to be an extreme sports action camera and is for people that are just living normal lives, HTC said.
Priced at 199.99 dollars, the Re Camera is a handy device which is shaped like the English alphabet 'J', has a minimalist design, a button on the front and a one on the back, and a couple of LED indicator lights, The Verge reported.
However, there's no viewfinder, no display, and no graphical user interface.
Its 16-megapixel sensor is set behind an ultra-wide angle (146-degree) fixed-focus lens and can shoot 1080p HD video at 30 frames per second or slow motion 720p video at 120 frames per second, report said.
The Re Camera will be available in orange, blue, teal, and white in the US later this month. (ANI)