Now "Do Knot Disturb" Zone On Your R-World!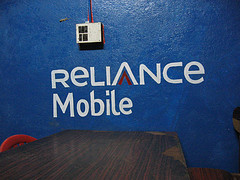 The country's leading telecom service provider, Reliance Mobile, has come up with a new Value Added Service (VAS).
As part of its partnership with BIG Pictures, the company has launched a VAS for the upcoming Bollywood film "Do Knot Disturb".
The service is meant for both the GSM and CDMA mobile subscribers of the company.
For this purpose, the operator has unveiled a unique "Do Knot Disturb" zone on its mobile VAS platform 'R-World'.
Confirming the development, Akshay Kumar, senior executive vice president, Reliance Communications, said: "We are proud to associate with Do Knot Disturb. We are happy to promote this movie across all platforms offered by Reliance Communications. We are optimistic on leveraging our technology to create a definitive connect of this film with our subscribers across the country."
The new VAS will facilitate Reliance mobile subscribers to access special content including Ring Back Tune (Caller Tunes), polyphonic and mp3 Ring tones, Exclusive wallpapers and video clips.
Moreover, the telecom company has also declared the winners for the 'Do Knot Disturb' special contest that is being promoted across its various verticals.