NPD: Holiday shopping season will see dramatic rise in tablet sales
Submitted by Jimmy Peterson on Fri, 11/23/2012 - 18:45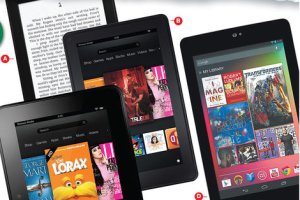 According to NPD DisplaySearch's North American tablet shipment predictions for the fourth quarter, there will be a dramatic rise in the sales of tablets during Black Friday and the holiday shopping season this year; thanks largely to the fact that a wide array of tablets are available in different sizes and diverse price-points.
Going by the estimates put forth by DisplaySearch's Richard Shim, the sales of tablets in the fourth quarter will likely touch 21.5 million units; with the shipments of tablets to be chiefly driven by the popular $199-priced models - including the Google Nexus 7 and the Amazon Kindle Fire - as well as a wider-than-ever variety in terms of size.
Shim also said that the estimated fourth-quarter tablet shipments' figures underscores a number "far exceeding" the projected 14.6 million units of laptops which will likely be shipped during the mentioned quarter.
Shim further added that, for the first time on a yearly basis, tablet shipments will probably exceed laptop shipments; with a total of nearly 80 million units of tablets likely to be shipped for the whole year, as against 63.8 million units of laptops.
Noting that the projected growth of the tablet market is essentially an upshot of the fact that the composition of the market has undergone a change of late, Shim said that the market-leading 9.7-inch iPad in 2010 faces substantial competition from a horde of tablets in 7-inch, 7.9-inch, 8.9-inch, 10.1-inch, and 10.6-inch sizes this year!