October Print Edition Preview : Third Edition for October
Submitted by Hina Deshpande on Mon, 10/15/2007 - 00:20
Telecom Players are having an eye on Indian Telecom market. Vodafone plans to invest more money in India. Bharti Airtel is already having plans to double its user base. Congress escapes poilitcal troubles and Nuke deal is not on the cards for next several months. Stock Markets are looking strong and 19000 is next target. Google offers Gphone. Apple Inc. expects better results in coming quarter.
Editor's Picks of the week.
Stock Market are ready to test 19000.
SBI slashes interest on new loans. SBI is also offering Reverse Mortgage now.
Stock Picks: Reliance Energy, Rolta, HDFC, UTI Bank, Tata Steel and Grasim.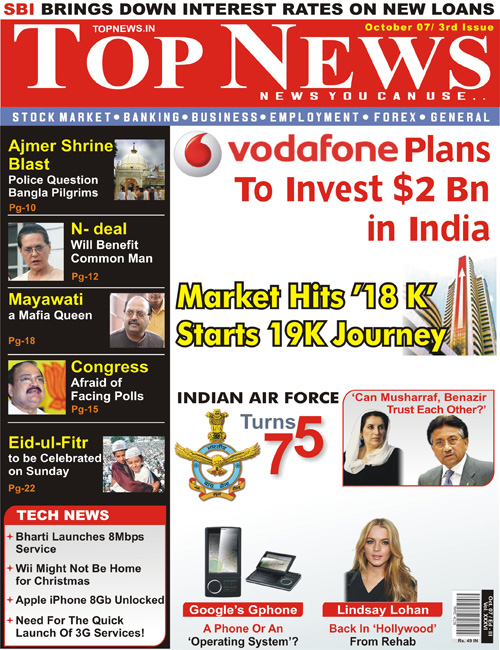 Grab the issue from your local bookshop or newspaper vendor.
For subscriptions please send an email to subscription@topnews.in
We accept payment by
Credit Card
Cheque (Local) / Demand Draft
Cash on Delivery (in NCR only)
(Currently available in India Only)