Only one family has benefited in Punjab: Rahul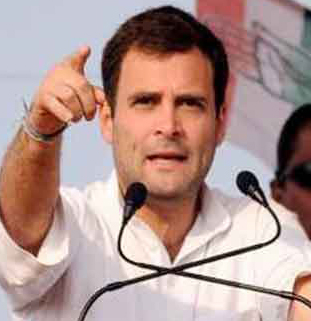 Bathinda (Punjab), April 28 : Attacking Punjab Chief Minister Parkash Singh Badal's family, Congress vice president Rahul Gandhi Monday said only one family had progressed and benefited in Punjab while the rest of the state could not progress much.
"We (Congress) unite everyone and make them part of progress. It is not that only two-three families should progress and other people remain poor. In Punjab, only one family has benefited," Gandhi said, without naming the Badals, at a rally for Congress-backed candidate Manpreet Singh Badal on the last day of campaigning.
Manpreet, an estranged nephew of the chief minister and former finance minister, is the joint candidate of the Congress and his People's Party of Punjab (PPP) from Bathinda against Chief Minister Badal's daughter-in-law and sitting MP Harsimrat Kaur Badal.
"This fight is about ideology between the Congress and the Akali Dal-Bharatiya Janata Party. Our ideology it to take everyone along while they think only about a few individuals," Gandhi said.
The drug problem had ruined the lives of people, especially youth across Punjab, but the Badal government was not bothered, he claimed.
"The Punjab government has to take responsibility for this. When I raised the issue of drug menace earlier, they laughed at it," he noted.(IANS)