Pachauri warns Maharashtra over climate change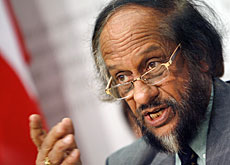 The Chairman of the Inter-governmental Panel for Climate Change (IPCC), Nobel laureate R K Pachauri, warned that climate change would have adverse impact on life in the next couple of years.
Addressing a two-day international conference on Reverence for Mother Earth, through video-conferencing, Mr. Pachauri said: "Climate change is only symptomatic of a larger problem of unsustainable development. Unfortunately, India is shedding its traditional culture of co-existing with nature. It is critical that we change our lifestyles."
He observed that it is due to climatic changes that Maharashtra has been facing a series of recurring droughts and rains, like in 2005 in Mumbai. Climate changes may affect crop yield in the state besides increasing social unrest. State Chief Minister, Ashok Chavan, has been apprised about the impending threats, through a presentation made by the IPCC, with the aim that the state machinery should gear up to face eventualities.
India may witness a significant decline in crop production and increased pressure on its water resources by 2020. Mr. Pachauri warned: "Not only will climate change cause a spread of diseases and decline in productivity of vital food grains, but the heat waves and conditions of extreme precipitation, which seem to be repeating at an alarming rate, would have a major social impact."