Panchkula jewellery shop owners to install CCTV cameras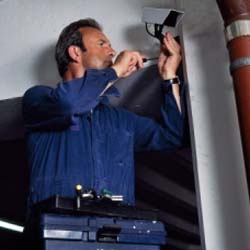 Panchkula (Haryana), Dec 19 - Police here have directed the jewellery shop owners to install CCTV cameras in their premises by Jan 5 next year to curb growing incidents of robberies in this Haryana district, police said Saturday.
"We held a meeting with the members of Panchkula jewellers association to discuss our strategy for keeping a tab on robbery incidents. In the meeting, we have told all the members of this association to install CCTV cameras in their properties," district police chief Maneesh Chaudhary told IANS.
"They have to keep the recording with them for few months. We have given them sufficient time to install these cameras; if anybody is found not adhering to the deadline then a strict action will be taken against the defaulter," he said.
In January this year, five robbers impersonating as policemen looted jewellery worth Rs. 21 million from PC Jewellers at gunpoint. In another incident, two workers of an Amritsar-based jeweller were drugged and robbed of jewellery worth Rs. 3 million.
Also, banks have been directed to install CCTV cameras by Jan 10.
"In the wake of recent robberies, we have increased the police patrolling all over the city. We are trying our best to keep a tab on the situation and very soon we will nail the real culprits behind these incidents," Chaudhary said.
Panchkula is around 10 km from Chandigarh. (IANS)