Patkar blames Chhattisgarh government for egg-tomato attack
Submitted by Hardeep Sidhu on Sat, 01/09/2010 - 02:01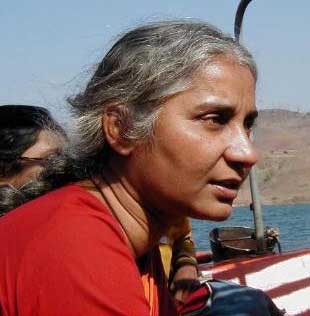 Raipur, Jan 8 : Two days after dozens of tribal people threw eggs and tomatoes at social activist Medha Patkar and several of her associates in Maoist violence-hit Dantewada district in Chhattisgarh, she Friday alleged it was a "state government-sponsored protest".
"It was all a government-sponsored protest in Dantewada in police presence. Those who threw eggs and tomatoes were brought from a relief camp by the government," Patkar told a press conference here.
Looking furious over the treatment she received Wednesday in Dantewada, about 380 km south of capital Raipur, Patkar said she wanted Thursday to meet Kopa Kunjam, a jailed Maoist sympathizer being kept in Dantewda jail but authorities allegedly forced Kunjam to refuse to meet her.
Trouble began in Dantewada when Patkar, Magsaysay Award winner Sandeep Pandey and a few activists reached the town to join the ongoing campaign of rights activists against alleged atrocities being committed by security forces on local tribes.
A large number of tribals, under the banner of "Ma Danteshwari Swabhiman Manch" chased the activists accusing them of supporting Maoist sympathisers, who are trying to stall the anti-Maoist operations in the restive Bastar region.
Even at Raipur Press club when she was addressing mediamen, several kids orphaned in Maoist violence in the restive Bastar region staged protest and raised slogans against Patkar and her associates for their alleged support to Maoist sympathisers in name of human rights protection.(IANS)