Malvinder Singh
Submitted by Shalini Kakkad on Wed, 04/07/2010 - 08:14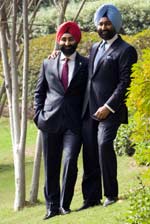 Multi-interest financial services group Religare Enterprises restructured its top management, the company informed in a press meet on Tuesday. As per the announcement, the company has appointed Sunil Godwani as its new Chairman and Managing Director as present Chairman Malvinder Mohan Singh stepped down.
Malvinder's brother Shivinder too stepped down today from his position as a member of Religare's board. Sachindra Nath would be the new Chief Executive of the company, Religare's press statement revealed.
Submitted by Sameer Kapoor on Tue, 05/26/2009 - 08:45
Japan's Daiichi Sankyo has taken complete control over India's largest pharmaceutical company Ranbaxy, a company started by Bhai Mohan Singh, and transformed by his son Parvinder Singh. Last year, his grandsons Malvinder and Shivinder Singh sold their entire stake in the company to Japanese pharmaceutical giant.
The Ranbaxy board has been constituted again. Malvinder Singh who was earlier working as the MD and CEO has been removed from company board. . Atul Sobti, will shoulder the responsibility of CEO of the giant drug maker.
Apart from this, Tsutomu Une has been elected the Chairman of the Ranbaxy board.