Milos Raonic
Submitted by Sukhdeep Grewal on Mon, 01/12/2015 - 17:24
London, Jan 12 : 17-time Grand Slam champion Roger Federer beat big-hitting Canadian Milos Raonic to secure his 1,000th career win as he bagged the Brisbane International title.
Federer beat Raonic 6-4, 6-7 (2-7), 6-4 on Pat Rafter Arena to clinch his 83rd career title and the Swiss becomes the third man, after Jimmy Connors and Ivan Lendl, to secure 1,000 ATP wins.
The world number two said that he has played a lot of tennis over the years so to get to 1,000 wins means a lot to him, adding that it is a special moment undoubtedly, and insisting that he would never forget this match, the BBC reported.
Submitted by Sukhdeep Grewal on Mon, 04/08/2013 - 17:43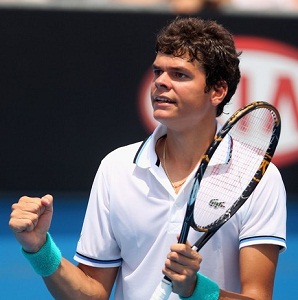 Vancouver, April 8 : Canada advanced to the Davis Cup semifinals for the first time Sunday when Milos Raonic beat Italy's Andreas Seppi 6-4, 6-4, 3-6, 7-5 to win the World Group tie 3-1.
The upstart Canadians, who upset top-ranked Spain in February, will now meet Serbia in the next round in September. World No. 1 Novak Djokovic beat Sam Querrey in four sets to give the visiting Serbians a 3-1 victory over USA Sunday in Boise, Idaho, Xinhua reports.