Planet M to begin most-awaited 'National Mega Sale' from 21st June
Submitted by Malini Ranade on Sun, 06/21/2009 - 04:01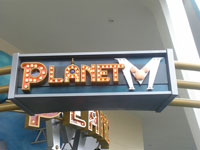 Planet M, one of India's leading music and accessories retail chain, on the occasion of 'World Music Day' has decided to launch its most awaited 'National Mega Sale' from June 21st, across the country.
The company claims that the proposed offer will provide a great opportunity for all music lovers and movie buffs to pick up the latest in music and movies for the coolest discounted prices.
The company on the occasion of 'World Music Day' would offer special discounts on titles of CDs, VCDs and DVD's. For e.g. the sale gets you a set of three Sony CDs at Rs 99/-, 50 per cent discount on select BIG DVDs and 'buy 2 get 1 free' offer on Virgin music and movie CDs and VCDs, amongst other tempting offers.
The offer will close on July 31st 2009.
Planet M is an Indian music retail store originally founded by The Times Group (BCCL), which was later sold to Videocon group in Nov 2007. The stores are mainly known for selling music and movies and related accessories, gaming consoles, and offering a wide range of mobile handset with lucrative schemes.
The music store chain has presence at over 265 locations, across the country.
Technology Sector