Police drive to check underage drivers in Gurgaon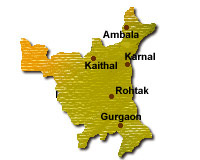 Gurgaon, Dec 24 : If you like the thrill of being behind the wheel but are not 18 yet - beware. Police in Gurgaon have launched a drive to nab underage drivers.
"We have started to 'challan' (fine) underage students and children found driving vehicles. In the last few days, 327 students have been fined. We have also educated parents and teachers not to allow children to drive," S. S. Deswal, Gurgaon police commissioner, said here Thursday.
"We will also confiscate the vehicles if the parents do not stop their children from driving. Our intention is to ensure safety of citizens."
Deswal said police were also focusing on drunken driving and more than 7,000 traffic tickets were issued during the current year for this offence.
"We are also keeping a close watch on over speeding vehicles and 9,431 vehicles were fined for over speeding this year," Deswal said. (IANS)