Prachanda accuses India of meddling in Nepal''s affairs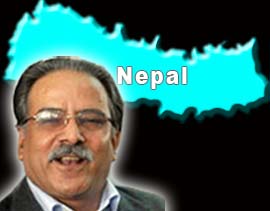 Kathmandu, Dec 23 : Unified Communist Party of Nepal (Maoist) Chairman Pushpa Kamal Dahal alias ''Prachanda'' has accused India of meddling in Nepal''s affairs.
Addressing a victory rally to wrap up a three-day nationwide general strike here on Tuesday, Prachanda accused the Indian Army Chief General Deepak Kapoor of opposing the merger of the Maoist People''s Liberation Army with the Nepal Army.
Nepal''s Army Chief General Chhatraman Singh Gurung was in India at the invitation of General Deepak Kapoor last week to receive traditional honour of being declared General of the Indian Army by the Indian President.
During the visit, General Kapoor was said to have stated that he was against the merger of the Maoists'' People''s Liberation Army with the Nepal Army as it would lead to the politicisation of the Nepal Army.
"Who has given the right to Indian army chief to direct Nepal to not recruit Maoists into Nepalese Army?" Prachanda asked.
Linking the Indian army chief''s statement to Nepal''s sovereignty, Prachanda said that he would only talk to authorities in New Delhi and not to those in Kathmandu.
"The statement of Indian army chief is linked to the sovereignty and independence of Nepal. Freedom of Nepal is directly related to the sovereignty of its people. We cannot establish the sovereignty of the people until we win the battle of national freedom, for which we are ready to talk to India," he said.
However, leaders of all other major political parties of Nepal have condemned Prachanda''s statement.
Nepali Congress vice president Ram Chandra Poudel termed Prachanda''s statement as an expression of defeated mentality.
NC leader Krishna Situala said, the Maoists are blaming others to cover their own weaknesses by calling New Delhi for talks. (ANI)