Punjab pays record Rs.15,473 crore to farmers for wheat
Submitted by Dalbir Sahota on Tue, 05/27/2014 - 22:53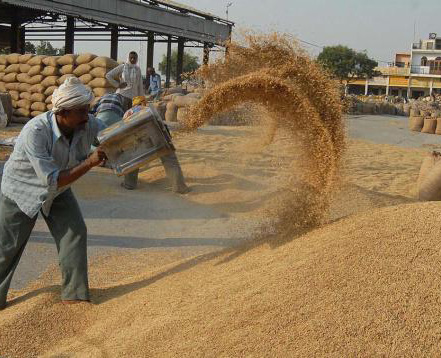 Chandigarh, May 27 : With a bumper wheat crop in the state this year, the Punjab government has made a payment of Rs. 15,473.15 crore to farmers for wheat procured by government agencies, an official said Tuesday.
A Punjab government official said that over 118.17 lakh tonnes of wheat had been procured in the state this year.
The procurement process started April 1 and is still continuing.
The highest payment of Rs. 1,393.64 crore has been made in Sangrur district which led in wheat procurement. It was followed by Bathinda district (Rs. 1,163.13 crore) and Ludhiana (Rs. 1,144.38 crore).
In neighbouring Haryana, nearly 64.85 lakh tonnes of wheat has been procured. (IANS)