Rahul Gandhi to launch "Aam Admi Ka Sipahi"
Submitted by Mohit Joshi on Sat, 07/18/2009 - 17:19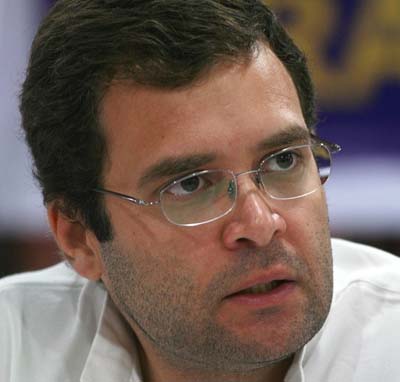 Guwahati, July 18 : Congress General Secretary Rahul Gandhi, is inaugurating "Aam Aadmi Ka Sipahi,"a flagship idea to popularize UPA Government's programmes by the Youth Congress.
The programme ''Aam Aadmi Ka Sipahi'' has been planned to train local youths in different ways of communicating at the grassroots and popularising the UPA''s flagship programmes like the National Rural Employment Guarantee Act (NREGA) and the use of Right to Information Act.
Rahul will be accompanied by a team of Microsoft computer experts who would train people in e -governance and use of computers.
Tight security arrangements have been made for Gandhi's visit. He is also scheduled to interact with college students at a programme organized by the National Students Union of India. (NSUI)
Gandhi would address a meeting of the Assam Pradesh Congress Committee in Guwahati. Chief Minister Tarun Gogoi, APCC President Hiteshwar Saikia would be accompanying Gandhi in his daylong tour of Assam. (ANI)