Rahul shares our father's development vision: Priyanka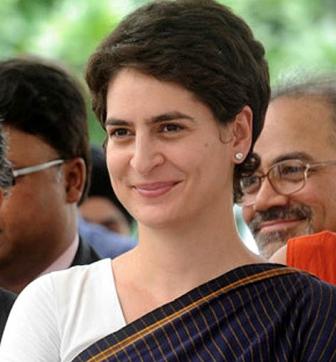 Amethi, April 29 : The Congress party's star campaigner Priyanka Gandhi Tuesday said her brother Rahul, seeking re-election to the Lok Sabha from here, has the same vision of development as their father Rajiv Gandhi had.
"My father used to be the MP from here. He developed Amethi and always thought about long-term, holistic growth. Rahul, who is now your MP and my brother, also has the same vision and thinks of long-term development," Priyanka said at an election meeting here.
Priyanka accused Smriti Irani, the Bharatiya Janata Party (BJP) candidate in the Amethi constituency, of being cut off from ground reality.
"There are other contenders who come here and say there is no light and good roads here, despite being Rahul's constituency. They take reporters to a dark room and talk, and say there has been no development. They do not want to understand how development has happened here," she said.
Accusing the BJP of copying the Congress party's poll manifesto, Priyanka said the BJP should now talk about how they are going to bring in development and provide protection to people.
Aam Aadmi Party's Kumar Vishwas is also in the fray in this Nehru-Gandhi bastion, which goes to the polls on May 7.(IANS)