Rajkot residents stage rally to propagate Mahatma Gandhi''s teachings
Submitted by Sarthak Gupta on Fri, 10/02/2009 - 20:15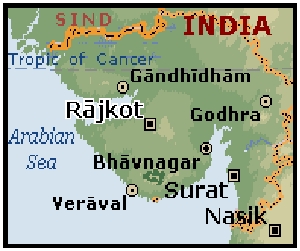 Rajkot, Oct 2 : Hundreds of residents participated in a ''Gandhi Vichar Yatra'' here today on the occasion of Mahatma Gandhi''s 140th birth anniversary.
Students from over ten schools of the Mahatma Gandhi Charitable Trust, and colleges, participated in the rally. They urged people to follow the teachings of Gandhi, especially of peace and non-violence.
The ''Gandhi Vichar Yatra'' was organised to persuade people to follow his teachings. " Mahatma Gandhi was a great man, but we have forgotten his principles and ideals. We need to adopt them again. We want that the youth adopts the principles and ideals of Gandhi and uses them in their own lives," said Arvind, a coordinator.
The enthusiasm of the participants especially young students was noteworthy. They said that there should not be just one day to remember Mahatma Gandhi but one should follow his teachings everyday.
"Our aim is to remember Mahatma Gandhi not just on this day, but everyday. We should remember him the whole year through," said Vaishnavi, a participant.
Mahatma Gandhi was born on October 2, 1869 in Porbandar in Gujarat.
The United Nations had declared in 2007 that October 2 would be observed as "International Day of Non-Violence". (ANI)
Technology Sector