Rajkot schoolchildren make exquisite earthen lamps on Diwali
Submitted by Mohan Kumar Shr... on Fri, 10/16/2009 - 23:53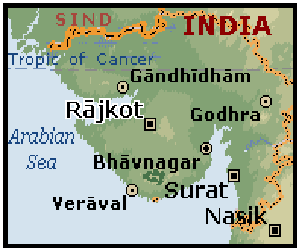 Rajkot (Gujarat), Oct 16 : Ahead of Diwali, the festival of lights, a number of schoolchildren in Rajkot have been engaged in making earthen lamps.
These students are undergoing a vocational course at Kadvibai Virani Kanya School in Rajkot, which has been engaged in the production of lamps for the past three years.
The lamps are essentially sold in the domestic market during Diwali, while generally it is exported to foreign countries including USA, UK and Germany, where there is a great demand for the artifacts.
"By creating the lamps, students make money and pay their school fee and are being able to do some saving as well. Apart from children, we are also getting very positive feedback from the parents," said Sonal Shah, principal of Kadvibai Virani Kanya School.
The students, who spend two hours in the production of the lamps, are paid a generous amount for their hard work, which they effectively use for paying their school fee.
"We daily spend two hours on making the lamps and when we finish it, we pack them, so that they could be exported to various foreign countries. We get our pocket money by selling these lamps and take out our expenses from it. If tomorrow we do not get any job then we can make these lamps and sell them and earn a living," said Patel Rachna, another student.
Sonal Shah also said that the popularity of the initiative by the has increased so much that enrolment to the vocational course has increased by 50 percent in recent times.
"The demand for enrolment to the course has increased to 50 percent. Apart from gaining work experience, students are being able to set up their own very small village industry of their own," Shah said. (ANI)
Technology Sector