Rathore should get more punishment: Ruchika's friend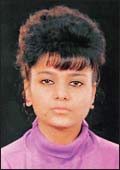 Panchkula (Haryana), Dec 22 : Aradhana Gupta, who fought for 19 years to get justice for her friend Ruchika Girhotra, Tuesday said she was happy that the light punishment given to former Haryana director general of police (DGP) S. P. S. Rathore for molesting the teenager in 1990 was raised in parliament.
A special Central Bureau of Investigation (CBI) court in Chandigarh had Monday held Rathore guilty of molesting 14-year-old Ruchika here Aug 12, 1990 and sentenced him to a six-month prison term. The teen had committed suicide three years after the incident.
Her friend Aradhana said the sentence was too little and that she and her parents, Anand and Madhu Prakash, would go to a higher court for justice.
"The loss of Ruchika is the biggest tragedy of my life and the six-month jail is nothing before it. But I am happy that today (Tuesday) this issue of little punishment rocked the Rajya Sabha in New Delhi and now we hope that this case could reach its logical end," Aradhana told IANS.
CPI-M MP Brinda Karat Tuesday expressed outrage at Rathore getting a light sentence and said in the Rajya Sabha: "A criminal who committed that crime in police uniform and escaped justice for 19 years was rewarded with promotion after promotion. And, 19 years later this criminal has finally been found guilty. What is the punishment - just six months."
Aradhana, Ruchika's best friend and the lone witness to the molestation incident in Sector 6 here in 1990, specially flew back here from Sydney in Australia earlier December to be with her family when the judgment in the case came.
"I am satisfied with the conviction but Rathore should know that he cannot get off lightly. We will go to a higher court to get him more punishment."
Talking about the motivation to fight this case, she said: "I just do not want any other innocent girl to fall prey before any senior official. This feeling kept me going for the last many years."
"Whenever she went out of her house, goons followed her and passed vulgar comments. She was expelled from school without giving any reason and no other school was giving her admission. The police picked her brother from home several times and beat him mercilessly," Aradhana recalled.
Ruchika was studying at Chandigarh's leading Sacred Heart School for girls when she was expelled.
"Ruchika spent most of her time weeping but there was nobody to help her. The state government and police were shielding the accused. I could not meet her 4-5 days before she committed suicide as I had my exams but we were in constant touch over the phone."
The Prakashs' fought for Ruchika's cause - holding out against open intimidation by Rathore, his official machinery and even goons - all wanting them to withdraw the case.
"We have been harassed all these years for pursuing this case for Ruchika. The conviction has given some hope even though the punishment is less," said Madhu Prakash.
The Prakash family was targeted too. Anand Prakash, who retired as chief engineer in a Haryana government agency, claims that corruption cases were frivolously slapped on him.
"We did not give up hope even when her (Ruchika's) family wanted to leave the case. Today, her soul will rest in peace. Our fight was against the system. This man
(Rathore) enjoyed all along due to his position," Anand Prakash told IANS at his residence here.
Rathore was an inspector general of police at that time and was charged of molesting the minor girl in his office as president of the Haryana Lawn Tennis Association
(HLTA) in Panchkula. Both girls used to play tennis there.
"We will seek more punishment for him. People who shielded him all these years should also held guilty. All his perks, positions and even his pension should be withdrawn," Anand Prakash said.
"They filed various false civil cases against me and my family members. Whenever my daughter stepped out of the house, they used to give us threatening calls of kidnapping her and told us that my daughter had eloped away with someone,"
Ruchika committed suicide three years after the incident in 1993 following continuous mental harassment of her and her family to pressurize them to withdraw the case against the all-powerful Indian Police Service (IPS) officer.
Her brother was slapped with car theft cases and harassed by the police. This forced Ruchika's family to shift out of Panchkula after her death and settle down in neighbouring Punjab. Her father was a bank manager when the incident happened.
"Though he (Ruchika's father) was not satisfied with the sentence but still he was happy when I told him about the court's verdict. He and his son Ashu don't want to come out in the open. They have suffered a lot," Anand Prakash said.(IANS)