RBI expected to hike repo rate to 8% by end of FY2013-14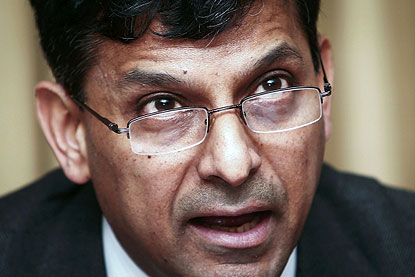 New Reserve Bank of India (RBI) Governor Raghuram Rajan is expected to increase the repo rate by another 50 basis points (bps) to 8 per cent by end of 2013.
Focusing more on inflation than growth, Mr.  Rajan increased the repo rate 25bps to 7.50 per cent on September 20.  The increase, which surprised the markets, was enough to show that inflation continues to be the central bank's number one enemy.
As inflation continues to be much higher than the central bank's comfortable limit, economists and bankers expect Mr.  Rajan to continue increasing the repo rate.
Economists at British bank Standard Chartered said, "We now expect RBI to increase repo rate by 0.25 per cent each at the next two policy meetings to 8 per cent by end of 2013."
Economists at Japan-based brokerage firm Nomura also said that they expected hike of 50bps in repo rate by the end of this fiscal.
Nomura added that the sudden regime shift at the central bank forced it to change its policy call.  Previously, it had been expecting a continuance of the status quo on key policy rates in current fiscal, followed by cuts of around 0.75 per cent in FY15.
In August this year, rate of inflation jumped to 6.1 per cent at the wholesale level, while the consumer inflation rate remained at more than 9 per cent.