Red Ribbon Express currently spreading awareness about AIDS in UP
Submitted by Ashok Rao on Sat, 11/17/2012 - 23:06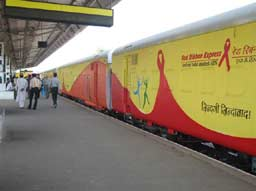 Specially designed train Red Ribbon Express, which is running across India for the third season spreading awareness about HIV/AIDS, is currently parked at Charbagh station, Lucknow.
The Red Ribbon Express on Friday attracted a great number of students and teachers who gathered information about the incurable disease, and enthusiastic counsellors on board dispelled myths related to the disease.
Ahmad Hasan, minister for health & family welfare, also visited the train and said that cases of HIV/AIDS could be reduced just by becoming aware the disease. He added that if an infected person gets diagnosed and treated at an early stage, he/she could lead a normal life.
The National Aids Control Society (NACO) said that the Red Ribbon Express was concentrating on the youth and women in particular because they can spread information about the disease better.
The third phase of the Red Ribbon Express had begun on 12th January this year and Uttar Pradesh is the eighteenth state being covered by it. During its year-long journey, the train will travel across a total of 23 states, halting at more than 160 stations.
AIDS is a disease of the human immune system caused by human immunodeficiency virus (HIV). It is transmitted mainly through unprotected sexual intercourse, contaminated needles, contaminated blood transfusions and from mother to child during pregnancy.