SAARC Foreign Ministers meeting today
Submitted by Sahil Nagpal on Fri, 12/07/2007 - 13:44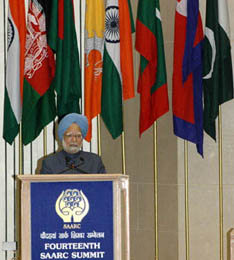 New Delhi, Dec 7 (ANI): The two-day meeting of Foreign Ministers of the South Asian Association for Regional Cooperation (SAARC) member nations will begin here today.
Foreign Ministers of eight member countries (India, Pakistan, Bangladesh, Nepal, Sri Lanka, Bhutan, Maldives and Afghanistan) will attend the seventh SAARC Foreign Ministers meeting.
During the meeting, Foreign Ministers will discuss ways to implement various conventions on combating terrorism.
Issues like liberalisation of visa regime, setting up of SAARC University, tele-medicine network, ratification of agreements, poverty alleviation and social charter will figure in the meeting.
It will also consider application of Australia and Mauritius for association with the SAARC as observers, joining the US, EU, South Korea, Japan, China and Iran in that category.
The discussion will also hold on transport links in order to improve regional connectivity. The projects include ferry services connecting Colombo, Kochi and Tuticorin, a rail corridor between Chennai and Colombo, Agartala-Chittagong and Kathmandu-Kolkata road corridors and extending the rail link on the border with Bhutan.
Besides holding discussion on operationalisation of SAARC Development Fund (SDF), the Foreign Ministers will also seek to push the proposed regional Investment Protection and Promotion Agreement.
Foreign Secretary Shivshankar Menon on Thursday said that SAARC would put into operation a 300 million dollar fund for poverty alleviation and infrastructure development soon.
Menon said that an interim cell has been set up to implement the SDF to coincide with the grouping's Foreign Minister's meet.
Apart from this, the meeting will also review economic, social and cultural cooperation among SAARC countries in the context of Delhi Declaration.
The Foreign Ministers will also decide on the next Secretary General of SAARC. India is expected to nominate its ambassador in Vienna for the post. The current Secretary General is from Bhutan whose tenure expires in April 2008.
The Council of Ministers will review the implementation of decisions taken by the 14th SAARC summit held in New Delhi in April. (ANI)