Samaranch says Madrid bid did not heed his advice
Submitted by Anonymous on Tue, 10/06/2009 - 03:46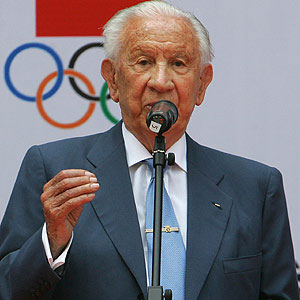 Copenhagen  - Juan Antonio Samaranch, the Spaniard who led the International Olympic Committee (IOC) 1980-2001, advised Madrid not to bid for the 2016 Olympics, but bid officials would not listen.
"At one point I gave my opinion, but when a majority went for the year 2016 the only thing I could do was to help as far as I could," Samaranch told the German Press Agency dpa in Copenhagen.
Samaranch knows the 106 members of the Olympic decision-making body, but at age 89 it was apparent that he is not omnipotent: Rio de Janeiro thrashed Madrid 66-32 in the final round of voting Friday, to get to host the Games in 2016.
Chicago and Tokyo also lost a race which, according to Samaranch, reflected the interest of many European members in securing a good starting position to bid for the
2020 or 2024 Olympics.
"Madrid worked very well, but Rio did better. It had everything. What worked against Madrid the most was to repeat a continent, and secondly that many Europeans did not vote for Madrid because they were thinking of bidding in the year 2020 or 2024."
Samaranch had stressed as far back as July 2007, at the start of the campaign for the 2016 Games, the "power" of a Rio bid as the representative of South America, a region which had never hosted the Olympics.
The former IOC president recommended a deal, even involving countries, between Madrid and Rio de Janeiro. But the proposal was dismissed.
"What I said was that it had to be studied with great care, particularly because something was springing up that people had not taken into account at the start: the interest of European countries in hosting Games in the years 2020 or 2024," Samaranch told dpa.
And he also indicated additional problems for Madrid that sprang from the campaign for the 2018 Winter Olympics.
"Even those who were bidding to host the Winter Games were against another bid from Europe," Samaranch said pointing to Munich and Annecy, from which it may be derived that German and French votes did not go to Madrid.
Still, Samaranch ruled out a "boycott" of the Spanish capital, which won the first round of voting with 28 votes but then saw support for Chicago and Tokyo practically all go to Rio as these cities were eliminated.
"No, I'm not saying boycott, everyone decides their interests. It was not at all against Spain, even less against Madrid. There was among many an interest to have a very clean bid for the future."
Samaranch enthusiastically praised the Rio bid's work.
"I think they had an extraordinary interest and fantastic organization from everybody. Then there was an exceptional man, (top bid official Carlos) Nuzman. And what the president of the republic did... I had not heard him speak as he spoke," Samaranch said.
"All that put together, and that about holding the Games for the first time in a given continent, made the scales tilt in their favour."
Samaranch - who has been since 2001 an honorary president of the IOC, without a vote - delivered a surprise Friday during Madrid's presentation, the last among four candidate cities.
"You know I am very near the end, I am 89. Allow me to ask you to consider what an honour it would be for us to host the Olympic and Paralympic Games in 2016," Samaranch emotionally told his IOC colleagues.
Minutes earlier, he had heard Brazilian Joao Havelange, former FIFA president, invite all IOC members to his 100th birthday party in Rio de Janeiro in 2016.
Was that a last-minute reaction from Samaranch or had he planned it in advance?
"No, no, I had planned it, asking friends for that favour," he said. "And the truth is that the first round of voting was a brilliant round, it was an attention. Then everyone voted what they liked."
Whether Madrid should bid for the 2020 Games is something that Samaranch says he is not entitled to talk about.
"I would not like to give my opinion about that, because I will no longer be in this world."  dpa