Samsung unveils Windows 8 devices comprising its new 'Smart PC' category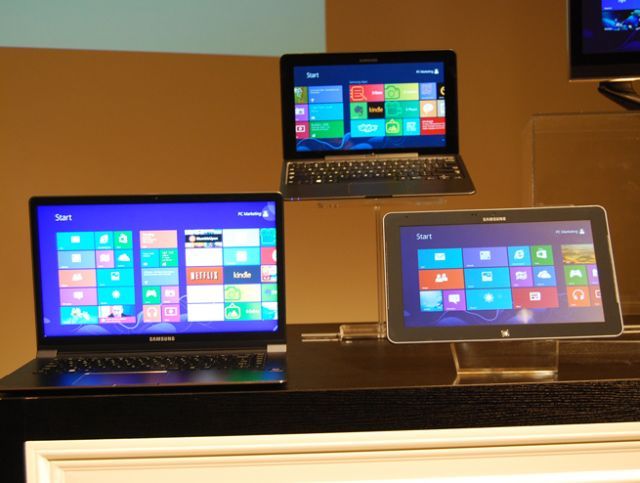 At a Monday evening press event, for which the invitations were sent last week, Samsung unveiled its forthcoming Windows 8-based devices - including touchscreen ultrabooks - which will comprise the company's new `Smart PC' category.
With Samsung having promised in the invites that it will introduce a "groundbreaking" Windows 8-based product at the press event, the company fulfilled the promise by taking the wraps off its Series 5 Ultra Touch Windows 8 ultrabook.
According to the information shared by Samsung, the "groundbreaking" 3.83-pound Series 5 Ultra Touch Windows 8 ultrabook will boast a 1366x768 screen; a Core i3 or i5 processor; 4GB of RAM; and a 500GB hard drive with 24 gigs of ExpressCache for high-speed SSD storage. The base model of the ultrabook, featuring Core i3 processor, will be priced at $810.
Meanwhile, among the other devices which Samsung unveiled at the press event included the rebranded $750 Ativ Smart PC 500T and the $1,200 Ativ Smart PC 500T tablets; both of which will run Windows 8 OS. While the former features a Core i5 processor, 2GB of RAM, and 64 GB on-board storage; the latter runs an Atom Z2760 chip, and boasts 4GB of RAM and 128 GB built-in storage capacity.
In addition, Samsung also announced the Series 9 Premium Ultrabooks; the Series 7 15-inch notebook; the Series 5 13.3-inch UltraTouch; and the Series 3 Notebook; along with two All-in-One PCs --- the Series 7 and the Series 5.