Sania Mirza's past affairs were kept away from her wedding
Submitted by Andy Cooper on Fri, 04/16/2010 - 03:21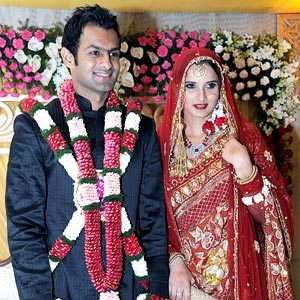 Sania Mirza and Shoaib Malik strengthen their bond by entering into beautiful relationship of husband and wife on April 12 at Hyderabad. Their guest list comprised of many famous personalities related to different fields like Salman Khan, Arbaaz Khan, Sohail Khan, Mahesh Bhupathi, Leander Paes and many more to attend their wedding reception.
Sania Mirza was always in news because of her link ups in past, considering the past affairs, Shahid Kapoor was not invited for the marriage though Sania claimed Shahid as her very good friend.
Sania Mirza and Shoaib have strong connections with Bollywood stars so it was obvious that their wedding party had to be jam-packed with Bollywood stars. Few years back Sania had also shown her interest to act in Bollywood but could not make it.
Sania Mirza and Shoaib Malik had secretly arranged their marriage ceremonies at Hyderabad on April 12 before the date listed in media and celebrated Mehandi on April 13 and rock the floor with Sangeet ceremony on 14 April.