SBI to merge State Bank of Indore with itself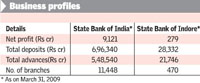 State Bank of India (SBI), the country's largest bank, has decided to merge another subsidiary, State Bank of Indore with itself.
The proposal was approved by the SBI board on Friday.
It should be noted that this will be the second associate bank of the SBI - after State Bank of Saurashtra in July 2008 - to be consolidated with the parent.
Presently, SBI holds a 98.05 per cent stake in State Bank of Indore, the smallest among its six associate banks.
On merger of State Bank of Indore, only 5 associate banks would independently exist within the SBI group, which includes State Bank of Hyderabad, State Bank of Mysore, State Bank of Bikaner and Jaipur, State Bank of Travancore, and State Bank of Patiala.
Market experts believe that the merger would help SBI consolidate its position as the country's biggest bank and, enable the group to scale up its business in terms of footprint, manpower and resources.