Scan could help detect athlete brain injuries
Submitted by Deep Singh Bhangu on Thu, 01/24/2013 - 17:14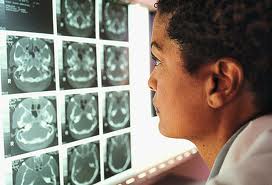 Washinton, Jan 24 : Researches have developed a test they say can help diagnose in living people a brain disease that has been linked to repeated head trauma in athletes. Previously the disease could only be detected after death.
The finding comes as the family of the late football star Junior Seau filed a suit Wednesday against the National Football League (NFL), claiming the linebacker's suicide last year was the result of chronic traumatic encephalopathy (CTE), a degenerative brain disease the family contends he obtained from the violent hits to the head he sustained while playing football.
An autopsy found Seau had CTE, which is caused by a build-up of protein in the brain.
"What we are seeing in a lot of sports related injuries is that the symptoms don't emerge until years after the trauma," said Dr. Gary Small, a professor of psychiatry and biobehavioural sciences at UCLA and the lead author of the study, published Tuesday in the American Journal of Geriatric Psychiatry.
Small and his colleagues from UCLA's Semel Institute for Neuroscience and Human Behaviour say they have found a way to use brain scans to look for signs of the disease in the living, using a technique that can identify CTE by detecting the build-up of the microscopic tau protein in the brain.
"The findings are preliminary. But if they hold up in future studies, this may be an opportunity to identify CTE before players have symptoms so we can develop preventative treatment," said Small.
For the study, researchers recruited five living retired professional football players who were 45 years of age or older. Each player had a history of one or more concussions and experienced mood changes, a symptom of CTE.
Researchers said they found tau protein in the brains of the five former players. Other symptoms of CTE include depression, aggression, memory loss and confusion.
According to The New York Times, more than 20 dead former football players and many boxers have had CTE diagnosed.
In 2011, National Hockey League (NHL) player Derek Boogaard died at 28 from an accidental drug and alcohol overdose while recovering from a concussion. A posthumous examination of his brain found he had suffered from CTE.
Professional wrestler Chris Benoit murdered his wife and son in 2007, later hanging himself. While steroid use was initially blamed for his erratic actions, researchers later discovered Benoit had CTE.
Researchers said the disease has also been detected after death in people who only played sports on the high school and collegiate levels, indicating hard blows to the head on any level could lead to the disease.
The study's findings have been called a breakthrough by both researchers and their peers.
"It is the holy grail of CTE research to be able to identify those who are suffering from the syndrome early, while they're still alive," said study author Dr. Julian Bailes, director of the Brain Injury Research Institute.
"Discovering the effects of prior brain trauma earlier opens up possibilities for symptom treatment and prevention," she added.
Athletes who show signs of CTE could then decide if they want to retire early to prevent additional brain trauma.
Researchers say real-time monitoring for CTE could change the outcome for trauma victims everywhere.
"We think these results have implications for not just professional and amateur athletes but also auto accident victims, military personal or anyone who has experience head trauma," Small said.(IANS)