Senior Bajaj happy with Rajiv's efforts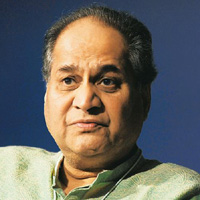 There might have been quite a few instances where the Chairman of the second-largest two-wheeler major, Bajaj Auto, Rahul Bajaj may have shown his dismay over the decisions taken by his son or the MD of the Bajaj Auto, Rajiv Bajaj but the senior patriarch has recently said that he is very happy the way Rajiv is leading the company.
Rahul Bajaj especially pointed to the fact where he praised the impeccable performance of the company in the last fiscal.
Moreover, rahul Bajaj also wrote in the annual report that Bajaj Auto's superior performance suggests that it has been more than just leveraging market growth pointing out the fact that the move of developing Pulsar and Discover as independent brands has worked in favor of the company.
Rajiv Bajaj has said very often that while products may generate market share, brands provide pricing power and create higher profits and Rahul Bajaj recently said that he has started to agree with his point.
It is to be mentioned here that the company announced a unit sales of 2.5 million motorcycles as it grew by 31%. Rahul Bajaj expects the company to maintain its growth even in the next fiscal.