Sensex jumps 266 points on positive trade data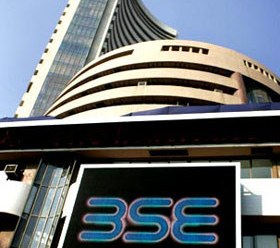 Mumbai, Oct 9 : A benchmark index of the Indian equities markets jumped 266 points Wednesday on good buying support in banking, realty and capital goods stocks as better-than-expected trade deficit data boosted investors' sentiments.
The 30-scrip S&P Sensex of the Bombay Stock Exchange (BSE), which opened in the negative at 19,918.20 points, ended the day at 20,249.26 points, up 1.33 percent or 265.65 points from its previous day close at 19,983.61 points.
The Sensex touched a high of 20,277.74 points and low of 19,826.96 points in the intra-day. The benchmark Sensex had gained 88 points Tuesday.
The wider 50-scrip S&P CNX Nifty of the National Stock Exchange (NSE) jumped 1.33 percent or 79.05 points higher at 6,007.45 points.
Better-than-expected foreign trade data boosted investors' sentiments in the market.
According to data released by the commerce ministry here, India's exports rose by 11.15 percent to $27.68 billion in September while imports dipped by 18.10 percent to $34.44 billion, helping to narrow trade deficit to a two-and-half-year low of $6.76 billion.
There was a good buying support in realty, healthcare, capital goods and banking stocks.
Realty index of the BSE jumped 4.27 percent. Healthcare index rose 1.88 percent. Banking index gained 1.88 percent and capital goods index jumped 1.86 percent.
Prominent Sensex gainers were: Sun Pharma, up 5.09 percent at Rs. 644.60; HDFC Bank, up 2.57 percent at Rs. 649.35; Infosys, up 2.48 percent at Rs. 3,107.55; BHEL, up 2.25 percent at Rs. 147.95; and Tata Steel, up 2.09 percent at Rs. 302.90.
Only five of the 30 Sensex scrips closed in the red. Wipro, down 1.19 percent at Rs. 477.15; SSTL, down 1.05 percent at Rs. 184.30; Mahindra & Mahindra, down 0.99 percent at Rs. 851.55; and Cipla, down 0.74 percent at Rs. 431.85 were among the Sensex losers. (IANS)