Sensex Weak In Choppy Trade; DLF Down Rs 14.57
Submitted by Shalini Kakkad on Wed, 12/24/2008 - 15:52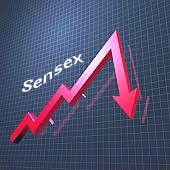 Indian stock markets continue to represent a weak outlook ahead of F&O expiry.
Huge selling action was witnessed across all sectors except BSE Bankex and PSU.
The 30-share-index BSE Sensex, today (Dec 24), belled the day negatively at 9,626.07, down 60.68 points, as against a drop of 2.43% on the previous working day.
BSE Midcap and Smallcap were also trading in negative terrain after losing 0.83% and 0.91% respectively.
Asian stocks declined, as a fall in US house prices and a crash in confidence among Japanese makers boosted the concern recessions in the world's biggest economies are deepening.
In the previous day session, the Sensex closed the day with a loss of 241.60 points, whereas the NSE Nifty dropped by 70.65 points.
At 11:09 a.m., the 30-share index Sensex lost 65.61 points at 9,621.14 after hitting a high of 9,653.42 and a low of 9,572.44.
Meanwhile the broad based Nifty declined 19.35 points at 2,949.30, after touching a high of 2,968.00 and a low of 2,935.15.
The overall breadth of the market was negative. Out of the total 1,834 shares traded at BSE, 594 advanced, 1,161 declined while 79 remained unchanged.
The major gainers in the 30-share index were Wipro, ICICI Bank, SBI, HDFC, Ranbaxy Laboratories and Mahindra & Mahindra.
On the other hand, the biggest losers in the Sensex were Satyam Computer Services, Tata Motors, DLF, Jaiprakash Associates, Maruti Suzuki India, and HDFC Bank.
While commenting on yesterday's stock market performance, Mr. P K Agarwal, president - research, Bonanza Portfolio, said, "Following weak global cues, Indian markets were under pressure as the trade began. Nifty fell from previous close at 3,039. It went down to 2,957 and closed near the low at 2,968. Major selling was seen in HCL Tech, Satyam, Unitech, Tata Motors. IT, Capital goods, Banking, Metals, Oil and Gas were among losing sectors. Some buying was seen in R.Com, ONGC, Hero Honda, Ambuja Cement."
Mr. Agarwal also said that the market is likely to be choppy on tomorrow's settlement. Nifty is likely to trade in range of 2,890-3,125.
Stock analyst, Vishwas Agarwal said, "2,976 and 2,940 are important downside support levels and below this markets will be weak. Another scenario can be that markets may take a U-turn with a second round of upside, and some new stock may also take part. But a report in the media about the war preparation between India and Pakistan is disturbing the sentiments of traders and investors."
Technology Sector