Shoddy fielding bothers Dhoni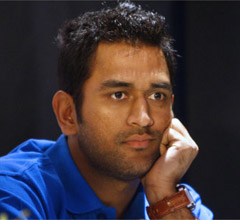 Rajkot, Dec 17 : India captain Mahendra Singh Dhoni is worried about his team's poor fielding ahead of the second One-Day International against Sri Lanka here Friday.
Indian fielders dropped as many as three easy catches in the first ODI in Rajkot and the shoddy fielding allowed Sri Lanka to make 411 in reply to India's 414. Even in the last two Twenty20s, Indians dropped a dozen catches and missed several run-out opportunities.
"We were fielding well in patches and not dropping catches at the international level. You may drop the odd difficult catch but straightforward chances need to be taken. In the last three-four games we have dropped a lot of regulation catches. Of course, it bothers me," said Dhoni on the eve of the ODI at the Vidarbha Cricket Association
(VCA) Stadium here Thursday.
"At the same time it will be solved at some point because of the effort that we are putting in. We are hoping we don't drop catches in this game," he said.
Dhoni, however, prasied fast bowlers Zaheer Khan and Ashish Nehra for their tight bowling in the death overs.
"It was one of the best in the past year. I have always said we had not been very consistent with the death bowling. In the last game, in the last five overs we gave away only
27 runs. It was a very good effort."
"Ashish (Nehra) bowled five overs in a row. There was a bit of reverse swing going which actually helped us a bit," he said.
The wicket at the VCA Stadium is also expected to be run-friendly.
"In the last T20 game here, there was good bounce. The wicket for the match looks like good and flat. I had a conversation with the curator," he said.(IANS)