Sonia to lay foundation for Rajiv Gandhi Petroleum Institute in Rae Bareli
Submitted by Sahil Nagpal on Wed, 02/20/2008 - 13:19
Rae Bareli, Feb 20: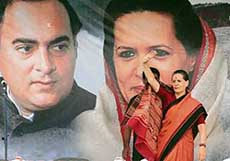 Congress Party President Sonia Gandhi will lay the foundation stone for the Rajiv Gandhi Institute of Petroleum Technology (RGIPT) at Jais in Rae Bareli today.
AICC General Secretary Rahul Gandhi will also accompany her.
Petroleum Minister Murli Deora, Minister of State for Petroleum Dinsha Patel and MP Captain Satish Sharma will also present on the occasion.
RGIPT is being set up under the Ministry of Petroleum and Natural Gas on the lines of IITs with the objective to create a world class institute to provide a high standards of education, training and research.
The institute will commence its academic operations by admitting students from the academic year 2008-09. (ANI)
Technology Sector