Sony India unveils next-gen hybrid Ultrabook - Vaio Duo 11
Submitted by Mitra Pathak on Fri, 11/23/2012 - 20:46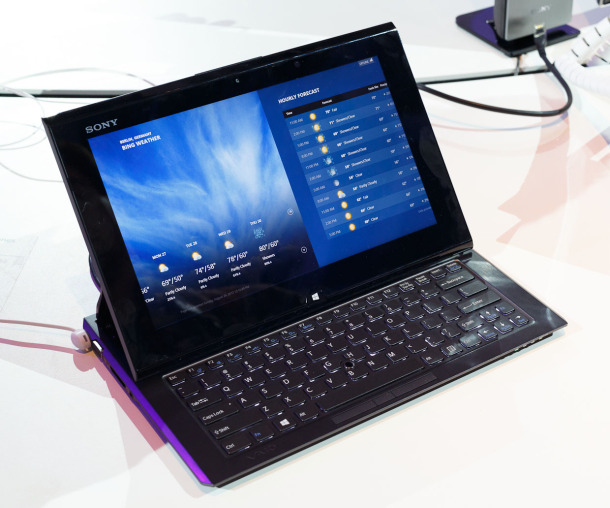 In a recent announcement, Sony India took the wraps off the next-generation hybrid ultrabook PC --- the Vaio Duo 11, which boasts a Surf Slider design that allows it to switch between being a touchscreen tablet and being a full-blown ultrabook.
The newly-unveiled Sony Vaio Duo 11 - which weighs 1.3kg and is 17.85mm thick - will hit the Indian markets by the end December. The flexible next-generation hybrid ultrabook will be available in Gun metal colour, at a cost of Rs
89,990.
Running Microsoft's latest Windows 8 operating system, the Sony Vaio Duo 11 is powered by a 1.7GHz Intel Core i5-3317U processor; and features an 11.6-inch Full HD HD OptiContrast touch panel.
Some of the other attractive features of the Vaio Duo 11 include 4GB of system RAM; storage on a 128GB SSD; a pre-loaded 64-bit version of Windows 8; 2 USB 3.0 ports; a USB 2.0 port; a full HDMI port; Ethernet; and slot for memory card. In addition, Sony's `xLoud' and `Clear Phase' smartphone and tablet technologies are also implemented on the hybrid ultrabook, which also includes Dolby Theater v4.
According to Sony, one of the USB 3.0 ports of the Vaio Duo 11 can also serve as the Sleep Charge port, which enables the users to charge any connected device even when the Duo 11 is shut down or is in sleep mode. Sony also claims that the Duo 11's battery can last for up to 4.5 hours on a single charge.