Speculations rife over BJP''s PM candidate following next elections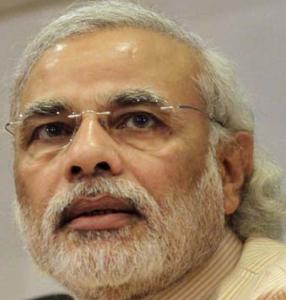 Chandigarh/New Delhi, Feb. 2 : Taking a jibe at the Bharatiya Janata Party (BJP) over reports of Gujarat Chief Minister Narendra Modi likely to be projected as their Prime Ministerial candidate, Information and Broadcasting Minister Manish Tewari on Saturday said Delhi is a very distant dream for the main opposition party as it has lost two consecutive Lok Sabha elections.
"In 2004, they fought the elections under the leadership of Vajpayeeji; they lost. In 2009, it was repeated under the leadership of Advani. I think the BJP should realise that Delhi is a very distant dream for them. And who -so- ever they decide to really have as their leader is their problem," Tewari told the media in Chandigarh.
"The Congress or the UPA always goes to the people on the basis of their own policies and on the basis of their own programmes. We do not worry as to who projects whom for what," he added.
Reacting to reports as to who would be the candidate for the office of the Prime Minister following next elections to the Parliament, BJP leader Balbir Punj said ''there is enough time left for the 2014 polls''. "Talking about it (Lok Sabha polls) right now would be cheating," he added.
BJP President Rajnath Singh, however, played safe and refused to comment on whether the Gujarat Chief Minister would be the BJP''s Prime Ministerial candidate.
There is intense speculation that Narendra Modi, who secured an electoral hat-trick in Gujarat in December last year, can spearhead the BJP''s campaign in 2014 polls.
Senior BJP leader Yashwant Sinha and noted criminal lawyer Ram Jethmalani have last month openly endorsed Modi''s name as Prime Ministerial candidate. The other BJP leaders have been so far evasive on this issue.
The Shiv Sena has, however, said that Sushma Swaraj is its first choice for the Prime Ministerial candidate in 2014. (ANI)