Sushma Swaraj visits Pashupatinath temple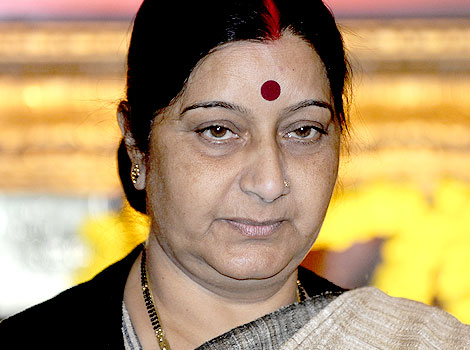 Kathmandu: External Affairs Minister Sushma Swaraj visited the famous Pashupatinath temple in the heart of Nepalese capital on Sunday.
Swaraj, who is on a three-day visit to Nepal, was accorded a warm welcome at the temple. About 100 children chanted vedic mantras while senior priest welcomed her with garlands.
She went around the temple and offered her prayers.
Swaraj was accompanied by Foreign Secretary Sujatha Singh, Indian Ambassador to Nepal Ranjit Rae and other senior officials of her delegation.
Pashupatinath is one of the most significant Hindu temples of Shiva in the world, located on the banks of the Bagmati River.
The temple is listed in UNESCO World Heritage Sites. --- PTI