Suzlon reports its largest ever quarterly loss
Submitted by Rajvir Khanna on Fri, 02/15/2013 - 18:54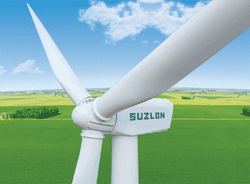 Suzlon Energy on Thursday reported its largest ever quarterly loss of Rs 1,155 crore for the three months through December 31, saying abnormal operating environment and liquidity constraints hit its business performance adversely.
Revenues slipped 19.5 per cent to Rs 4,074 crore in the October to December quarter, from Rs 5,063 crore in the corresponding quarter of the previous year.
Suzlon, which is currently burdened with a debt mountain of Rs 14,000 crore, has been reporting losses for the last three years.
Kirti Vagadia, chief financial officer of Suzlon, blamed abnormal environment for the company's huge loss.
Speaking about the company's poor performance, Vagadia said, "Suzlon has been operating in an abnormal environment this year. Despite a strong order book we have not been able to deliver orders due to liquidity constraint."
However, the value of the energy company's current order book jumped around 2.6 per cent year-on-year to around Rs 41,546 crore in the quarter under review.
After the announcement of the quarterly results, Suzlon shares slipped 10 per cent to Rs 21.20 apiece.