Swaraj interacts with Nepal's leaders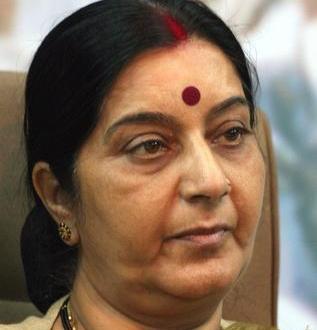 Kathmandu, July 26 : Visiting Indian External Affairs Minister Sushma Swaraj is reportedly busy holding parleys with leaders of various Nepalese political parties.
After meeting Pashupati Shumsher Rana, the Chairman of the Rastriya Prajatantra Party (RPP) upon her arrival in Kathmandu on Friday, Swaraj started parleys with leaders of other political parties since early morning today, reports the ekantipur web site.
She met the Chairman of Constituent Assembly, Subas Nembang, at Singha Dubar, while UCPN (Maoist) Chairman Pushpa Kamal Dahal called on her at the CA Hall in New Baneshwor.
She later held a group meeting with leaders from different Madhes-centric political parties.
The meeting was attended by the leaders of the Madhesi Janadhikar Forum (Ganatantrik), Tarai Madhes Loktantrik Party, Nepal Sadhbhawana Party, Sanghiya Samajwadi Party-Nepal, Sanghiya Sadhbhawana Party, Madhesi Janadhikar Forum (Loktantrik), Madhesi Janadhikar Forum-Nepal among others.
Swaraj is here to attend the third meeting of the Nepal- India Joint Commission, which is being held after 23 years.
The meeting is expected to swell upon the entire gamut of bilateral relations, including outstanding issues like Kalapani and Susta river water disputes. (ANI)