Talks with Pak, only after action taken against 26/11 perpetrators: Preneet Kaur
Submitted by Sahil Nagpal on Thu, 08/06/2009 - 15:52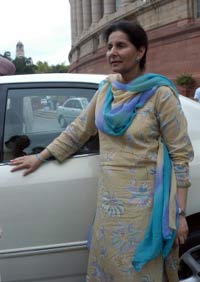 New Delhi, Aug 6 : Union Minister of State for External Affairs Preneet Kaur has said that talks with Pakistan would suffer if Islamabad does not act against the 26/11 perpetrators.
Speaking to reporters here Kaur urged Islamabad to honour its commitment to peace.
"I think that we have never wavered from the stand that we have taken. Prime Minister Manmohan Singh has given many statements to that effect," Kaur said.
She added that Foreign Secretary level talks would also be subject to how Islamabad honours its commitment. (ANI)