Tata Sky adds new features on its Personal Video Recorder service
Submitted by Malini Ranade on Mon, 04/19/2010 - 04:37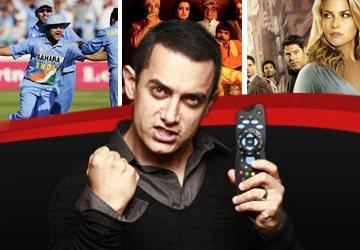 The joint venture DTH firm between Tata Group and News Corp, Tata Sky has introduced three new features to its Tata Sky+. Tata Sky has added these features to the premium personal video recorder (PVR). The new services are video-on-demand service, dual access remote recording and the new standby technology.
India has suddenly become the most promising sector for direct-to-home service. The market has been developed remarkably. Moreover various other players like Dish TV, Airtel Digital TV, and Big TV etc. have been penetrated to the Indian market quite successfully by some unique offerings.
At the same time competition in this DTH service market is becoming more vigorous and companies are desperate to attract more number of customers by providing various value-added services.
Tata Sky+ is known to be the premium service segment of the Tata Sky DHT service. The new additional feature of include video-on-demand service will allow the user to view the contents downloaded earlier into their personal video recorder. In the dual access remote recording, the user can record programs on PVR by instructing it through SMS or Internet. The new standby technology will reduce power consumption and switch PVR to sleep mode.