TN Deputy CM Stalin pledges support to industry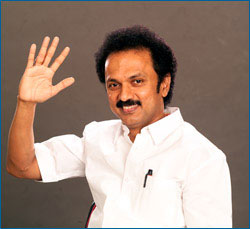 Tamil Nadu Deputy Chief Minister M. K. Stalin said that his government would take all possible steps to support industry, introducing a bill for single-window clearance of industrial projects in the coming assembly session.
The Deputy CM, after a meeting with industry and commerce leaders, assured adequate power supply and conductive atmosphere for the industry of the state.
Mr. Stalin said, "The government's concern does not end with the formulation and commissioning of industrial projects. It wants to support continued activities of the projects."
He added that Tamil Nadu Electricity Board is taking measures to minimize power cuts for the industry, purchasing power from the national pool and other states. State would get 2,100 MW power from the Kudangulam atomic power project, the Vallur thermal power project and other sources in the current season.
The DMK government had signed 22 memoranda of understanding for various projects, having capacity to generate 2,07,000 job opportunities.
The TN government has allotted 15 acres of land near Chennai for center's Footwear Design and Development Institute. The state managed to report 41 per cent increase in the total investments to Rs 1,68,000 crore by March, 2009 as per report of the Centre for Monitoring Indian Economy.