Twitter updates its mobile app for iOS and Android
Submitted by Jimmy Peterson on Sat, 11/17/2012 - 20:15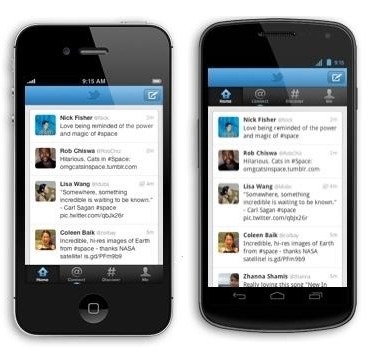 In a Thursday post on its engineering blog, microblogging service Twitter announced that its mobile app for iOS and Android has now been updated; as a result of which search and discovery functions will witness a notable enhancement.
Announcing the update of Twitter's mobile app for iOS and Android in the blog post, Daniel Loreto - Twitter's engineering manager of Search and Relevance - said that it will henceforth be possible for the users of iOS and Android devices to preview article summaries and pictures in Search as well as Discover, without actually accessing the stories.
Loreto also said that the update implies that users will be able to view tweets in Discover with links to news and photos, instead of the earlier not-so-interactive story previews.
In addition, Twitter's updated iOS and Android mobile apps - which are now available at Apple and Android app stores - will also bring aboard better search features not only to the app, but also on the web; with photo and video results to be displayed at the top of search results.
Moreover, revealing that users of Twitter's updated iOS and Android mobile apps will be able to attach "media experiences" to tweets which link to content by using the somewhat pointless `Twitter cards,' Loreto said: "Supporting Twitter cards on the backend means we can more directly improve the user experience in our native apps."