UFOs seen on India-China border
Submitted by Ashok Rao on Wed, 11/07/2012 - 20:59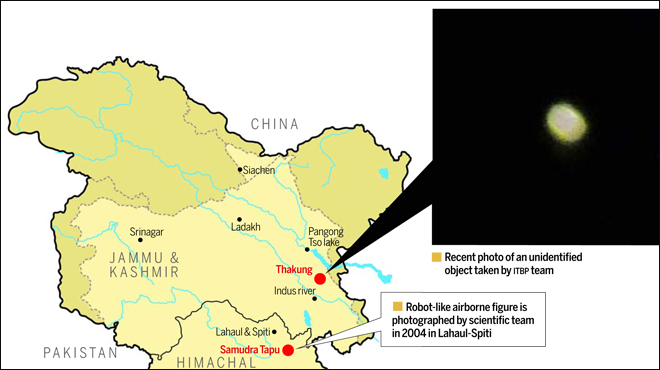 More than one hundred sightings of luminous Unidentified Flying Objects (UFOs) were spotted in the Ladakh region of Jammu and Kashmir between August 1 and October 15, 2012, the Indo-Tibetan Border Police Force (ITBP) said in its reports sent to their Delhi headquarters and to the Prime Minister's Office.
In its reports, ITBP described the airborne objects as "Unidentified Luminous Objects" that were seen at day and by night.
The flying objects were yellowish in hue and appeared to take-off from the horizon on the China's side. The objects remained noticeable for three to five hours before gradually disappearing.
Separately, units of Indian Army spotted drones. The Army said in its reports that its personnel recorded 99 sightings of China's drones in the western sector of the Ladakh region and the eastern sector of Arunachal Pradesh between January and August 2012.
Former Air Chief Marshal P. V. Naik said, "We can't ignore these sightings. We need to probe what new technology might have been deployed there."
Some scientists say that the harsh geography and thin demography of the Himalayan range, which divides Ladakh from Kashmir Valley, lends itself to unusual sightings.
But thus far, experts from the National Technical Research Organisation (NTRO) and Defence Research Development Organisation (DRDO) have failed to identify the reported objects.