UPA Government would collapse under its own contradictions: Jaitley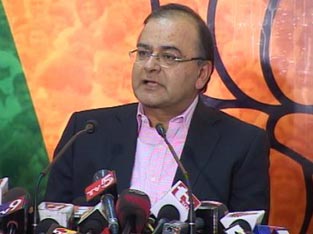 New Delhi, Sep 28 : Reacting to Prime Minister Dr. Manmohan Singh's comment that the opposition wants to destabilize the government in the hope of forcing early elections, senior Bharatiya Janata Party (BJP) leader Arun Jaitley on Wednesday said the UPA government would collapse under the weight of its own contradictions.
Addressing mediapersons here, Jaitley said: "The Prime Minister has distanced himself from ground realities... he is living in denial. We don''t have the numbers to destabilize the government, and we don''t need to do so."
"The UPA Government had a crisis of leadership and would collapse under the weight of its own contradictions and under the liability of its own image," he added.
On Tuesday, Dr. Singh accused the Opposition of trying to force early elections.
"I think Opposition is getting prematurely restless, I have said this in Parliament that we have a mandate from people of India to govern and govern well and Opposition should wait for two and a half years, the Opposition feels that they have got hold of some of the weak points of our government, therefore by focusing attention on that they can force a early election; its not going to happen," he said.
"This government has a mandate of five years, it will stay its course and that we will do things which when you look back may surprise the country," he added.
Dr. Singh said that he suspects that there are forces wanting to destabilize the polity of the present UPA Government. (ANI)