US transfers 200 million dollars in aid to Palestinians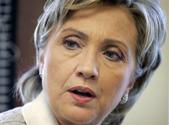 Washington - The United States has transferred 200 million dollars in aid to the Palestinian Authority to help it fill a serious budget shortfall, US Secretary of State Hillary Rodham Clinton announced Friday.
The money is part of a 900-million-dollar aid pledge to the Palestinians made by Clinton at an Arab summit earlier this year. Clinton said economic development was critical to achieving peace between the Israelis and Palestinians.
"It is our hope that this support will further conditions in which a Palestinian state can be realized," Clinton said. The Palestinian Authority had "proven a reliable partner for peace."
Palestinian Authority Prime Minister Salam Fayyad, who participated in the announcement by video conference, welcomed the new aid and said it "couldn't have been more timely."
"It will enhance our capacity to deliver vitally needed services to our people in Gaza and the West Bank," Fayyad said.(dpa)