We are moving in the direction of a significant accord, says Obama
Submitted by Karan Jakhad on Sun, 12/20/2009 - 02:29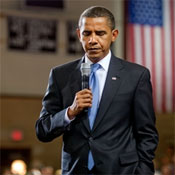 Copenhagen, Dec. 19 : Just as a climate deal was reached between the United States and BASIC (Brazil, South Africa, India, and China) group, it is being described as a "meaningful agreement" at the Copenhagen climate summit.
According to US President Barack Obama, the deal would be a foundation for global action but there was "much further to go".
Obama said the US, China, Brazil, India and South Africa had "agreed to set a mitigation target to limit warming to no more than 2C and, importantly, to take action to meet this objective".
"We are confident that we are moving in the direction of a significant accord," Obama was quoted by B. B. C. as saying in a report.
The deal was a "historic step forward" but was not enough to prevent dangerous climate change in the future, a US government official was quoted by the report as saying. (ANI)
Technology Sector