Whitney Port, Mischa Barton shed tears on watching Obama Inauguration
Submitted by Mohit Joshi on Wed, 01/21/2009 - 20:17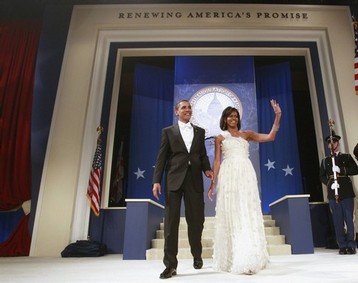 Washington, Jan 21 : While Barack Obama's swearing-in ceremony was an emotional moment for many, even celebrities including Whitney Port, Mischa Barton and Kim Kardashian couldn't help getting their eyes wet on watching the Inauguration on TV.
All the three ladies even shared their experiences of watching the welcoming ceremony on their blogs.
"While watching the events of today''s inauguration all morning, I couldn''t help but be overwhelmed with tears of excitement at the prospect of change!!! I have never been more proud to be a young, American adult," Us Magazine quoted `The City' star as saying in her blog.
She added: "We have witnessed one of the most momentous occasions in our country''s history and must remember these feelings of hope forever and ever. Be sure to embrace such a moment and appreciate how connected we all feel today... No matter our differences, we are all human beings that deserve the freedoms such change can and WILL renew."
On the other hand, UK-born Barton called Obama''s swearing-in ceremony "absolutely incredible. Obama''s speech rung so true, and is the reason why I made myself an American citizen."
The former O. C. star revealed that she "cried, I won''t lie. I cried for the people being hit by our economic crisis, including my friends, and for the people who don''t understand the spirit of good Americans."
She added: "Had he not won, I would not be proud to be an American any longer. I live in France for the freedom America once offered -- I have all my faith in Obama. I''m not a religious person but may God bless him and his family."
Kardashian said the election "was the first time I''ve ever voted and I''m so proud that Barack Obama is now our president!" (ANI)
Technology Sector